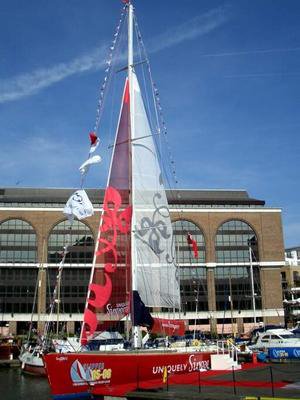 If she can't believe that she's going to be sailing the ocean deep in a few days time, she's not alone.
Lena
is going to be spending the next few months on the
Uniquely Singapore Clipper
. I can't remember exactly when she first told me about this idea. At the time, I think I told her to just go for the interview and take things from there.
Well, she went. And now, she's going.
On Saturday, she leaves for Durban, South Africa, to join up with the clipper and her crew, as the
Uniquely Singapore
team starts the 3rd crew leg and the fourth race. Yes, the yacht is part of the
Clipper '05-'06 Round the World Yacht Race
.
At the time of this post, Singapore is 5th out of 10 yachts. (Update: We just lost out to Liverpool before arriving at Durban - 6th of 10.) [Update of the update: Singapore and Liverpool have been ruled by the race stewards to have finished
joint 5th
. After a 4000 mile race. Almost as amazing as the three cars with the exact same qualifying time - to the
thousandth
of a second - in a F1 qualifying many years back.]
----------
Lena, I'm excited for you; I'm nervous for you too.
Take care. Do your best. Enjoy the experience - I know you will.
Not many people get to make their dreams come true. Savour it. Blog if you can. =)
A very Merry Christmas and Happy New Year in advance.
See you back home in 2006.
Cheers!
P.S. Just discovered
their photo album has an rss feed
! Cool. =) The image in this post is
from the gallery
.