white and black
Chevelle, one of my closest friends from Ngee Ann Poly, made a whirlwind two-day trip to Melbourne. I managed to meet her, and we caught up over coffee. It was terrific to meet her and have a chat. ICQ or whatever doesn't cut it sometimes. Most of the time, in fact.
She said that she loves the New Zealand national anthem. I love it too. It's just a beautiful hymn unlike... Well, Velle, here's the link to God Defend New Zealand, complete with lyrics, score and a few downloadable variations of the anthem.
New Zealand National Anthems
(Yes, there are two: the other one is God Save the Queen.)
Which brings me to the fateful match.
Met up with Christine, Lydia and Nicholas for dinner, then proceeded to Federation Square. The place was buzzing. We saw Joanne with a friend of hers. Ming and Adrian Loo turned up, with a few of Adrian's friends. Found out another friend, another Lydia, was watching the game at Fed Sq too. Most people stood up for both National Anthems. The Haka was performed with particular ferocity.
Where the ferocity went once the whistle blew is something only the All Blacks can answer. I'm lucky I'm not a Kiwi. The New Zealanders are going to wake up tomorrow with more than bruised egos, and the team, with more than bruised bodies.
Australia did what they haven't been doing the whole tournament: getting the basics right. The only hint of unforced errors came from Mat Rogers almost at the end. Trust me, the guy, together with Wendell Sailor, are the weak links in the Wallabies defence. Put them under pressure and see them crumble.
Unfortunately, the All Blacks couldn't put pressure on them. But that's because they couldn't get their hands on the ball, especially in the first quarter of the game. But that, arguably (and circuitously) was because they weren't putting pressure on the Oz forwards.
But the boys in gold were determined. I remember the look on Gregan's face when Kelleher put his hands in the ruck. His veins were pumped, and Gregan let Kelleher know how stupid he was for making the error.
Nevermind, I still support the All Blacks. And there's England. The last thing I want to see is an Australia-France final. I might not even watch the final if that happens.
I'm still traumatised by the game and the outcome. *sigh* Really disappointed. Celine, I feel your pain. For me, I hope it won't be compounded tomorrow night.
A few COSDUans before the game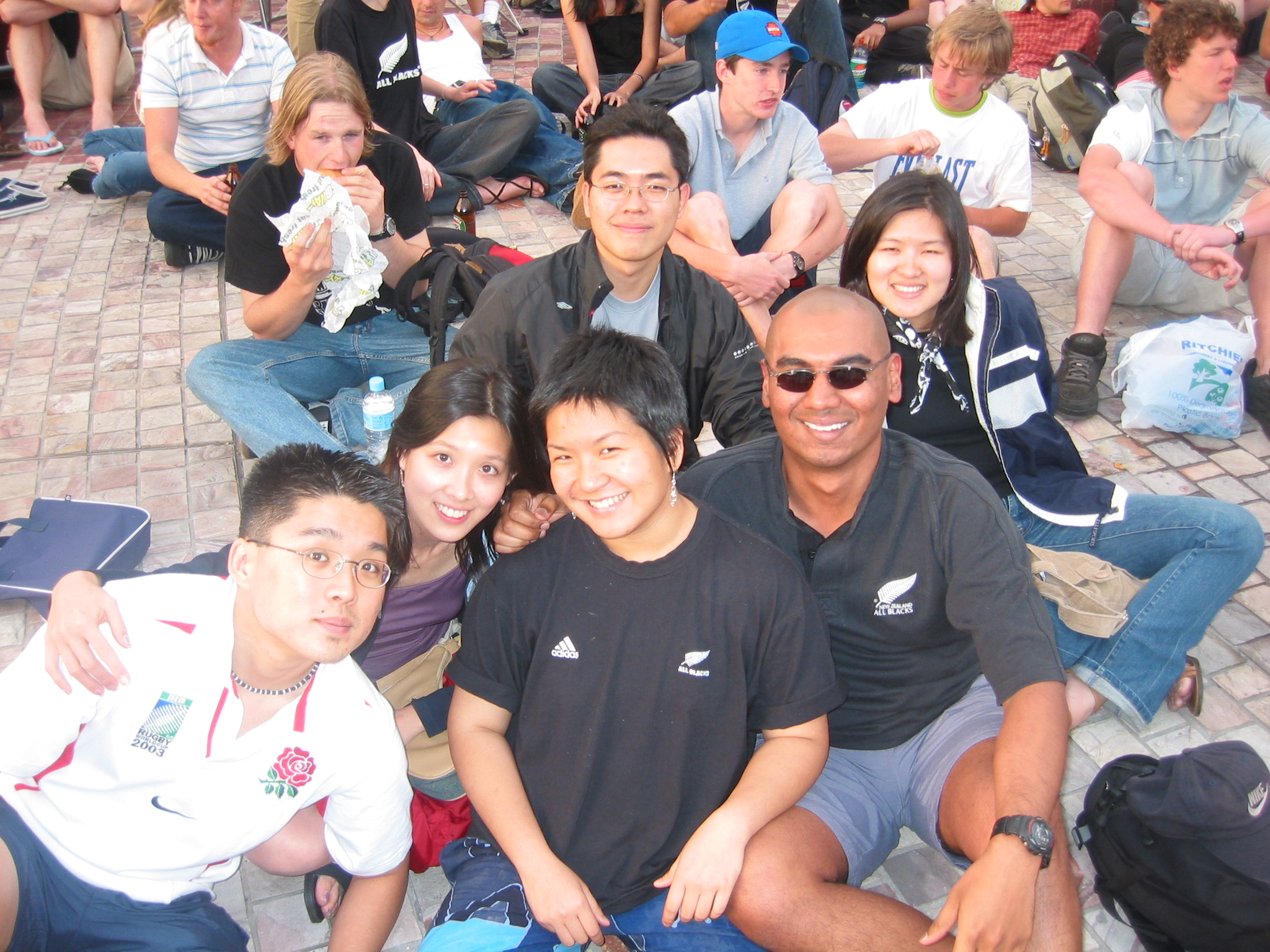 Supporters at Federation Square