sevens | something right for the wrong reasons
Some time last year, I volunteered to help out in the
Standard Chartered Rugby Sevens Singapore
. I filled in a form on the website, sent it off and promptly forgot about it. After all, I'd also volunteered to help in the Rugby World Cup, but I didn't make it past the interview.
I definitely wanted to watch the Sevens tournament but my current state of employment didn't allow me to get a Gallery ticket, let alone a Grandstand one. I'd resigned myself to watching coverage on TV, if there was any. Then, an email came: I had been selected to be a volunteer!
The briefing was on Saturday afternoon. The Operations Director, Yazed, briefed the volunteers. Filled in an accreditation form and Yazed told me that I was going to be in the Entertainment group. In his introduction, he mentioned the Sevens as a world-class tournament. He also highlighted that it was going to be a huge, fun event.
I've never had any doubts about that. And apologies to Football. The National Stadium is already being prepared for the tournament, so there's no way a football match would be staged there a few days before the Sevens. Anyway, Yazed then pointed out that...
In 2002, during the first Singapore Sevens, a tall young man called Joe Rokocoko blizted defences and he was promptly given his break in Super 12 and subsequently the All Blacks. The point being that Sevens was where future stars are - if not born - made.
Cool little fact #2: More than 100 people applied to be volunteers but about 20 were chosen. (More 'volunteers' will run the show. These 'volunteers' are staff from the Singapore Sports Council.) Basis of consideration: Age and previous volunteering experience, particularly in sports events. When Yazed mentioned previous experience, my mind jumped back to my failed attempt at volunteering for the RWC. My mind also made an oblique reference to my lack of experience hampering my job applications. Which is another story entirely...
Anyway, I was glad that they chose me. The benefits were pretty good too. Two adidas Climalite tee-shirts with the tournament logo (one for each day of the tournament, probably worth $40 each if they were sold in stores), a pair of adult gallery tickets (already distributed to Lena), $20 per day (a.k.a. transport money), breakfast, lunch and dinner for both days, cert of appreciation and most of all, the experience of helping out in a major sports event. Probably photo ops too... but won't be bringing my dSLR and won't let photo taking come in the way of my job.
I've to attend one more briefing by the Entertainment Head of Department some time in the coming week, so I'm not sure if I'll be working the whole day on both days. Some of the other jobs are in shifts. I hope mine is too. Then, I can get to watch some fabulous, fast and furious rugby. Can almost imagine the atmosphere and the colour. Ahhh... fond memories of the RWC. What's more, my staff pass will get me almost anywhere in the stadium, including the players' rest area AND the Saturday evening party! =)
To top off all these cool things, I was informed during the briefing, that a surprise was in store for the spectators. There'd be intervals between the games, and plenty of entertainment lined up (this is presumably where I come in, but I'm not going to be dressed up in a clown suit or asked to juggle or anything).
The surprise entertainment is a famous rock band. Apparently, it's so secret, I'm not allowed to say which band this is. And my job, apparently, involves escorting these people. Let's just say that I'm not a crazy, or even a big fan of this band. But I do like a few of their songs. I know plenty of people who would really like to be in my shoes! Hopefully, they are not a tribute band, as one of the other volunteers conjectured after the briefing. I'm just hoping that they are good to work with, won't turn up drunk, and get on stage when they have to with a minimum of fuss. They are a famous rock band, after all, and I'm sure they have famous rock band behaviour. Or they could turn out to be really nice people!
I'm surprised the Singapore Rugby Union managed to get them. It's some coup. For a long time, this band would not have been able to play in Singapore - long hair and coarse language. Now, they will be playing at the Sevens. Not rugby, of course. Guitars! Drums! Perhaps a piano... They don't exactly fit in with my conception of rugby. Unless you consider they are pitching the fun and carnival aspect of this tournament.
Hmmm... I think I might have given away the secret. ;P All you Singaporeans out there, stop complaining there's nothing to do in Singapore. On 3rd and 4th April, there will be plenty at the National Stadium!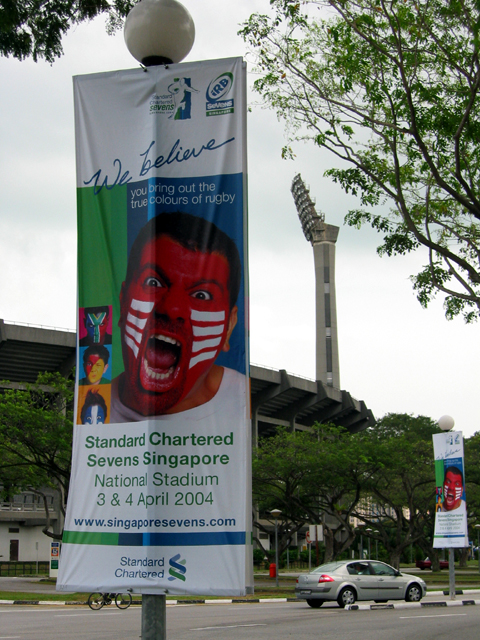 Join the fun at the Sevens! No rugby knowledge required!
----------
After the briefing, I went to Ja's place for a BBQ. Had an excellent time. My phone buzzed, reminding me to call a man who had inquired about COSDU on his daughter's behalf. I can't remember the exact words of the phone conversation, but I think my email to him explains the phone call somewhat. It's sad to find that people think this way.
<---- start of copied text ----
Hi Joachim,
Before I continue, I must say what's been on my mind since our phone call.
Although I am glad that you are trying to find a faith community for your daughter in Melbourne, I am slightly taken aback at your reasons for doing so.
First, I am puzzled by your insistence on contacting a religious person. Lay people make up the majority of out faith and any leadership that a lay person provides is both a welcome service and a God-given blessing. If anything, more lay people should be taking responsibility for our faith, especially in these times of declining religious vocations. Maria Lydia is a wonderful person and president of the Catholic Overseas Students Down Under (COSDU). I find it a slight on her abilities as a leader and her qualities as a person that you seem to think (at least as I perceive it) her being a student somehow detracts from her position. COSDU is affiliated with the University of Melbourne and is thus a fully student-run Catholic community (i.e. the President and Committee of COSDU will always comprise of Uni students).
Let me reassure you that Sr. Theresa Ryan FMDM, as International Chaplain of the University of Melbourne, provides excellent spiritual guidance and support to COSDU, its committee and anyone who steps into her office - Catholic or non-Catholic, and even the occasional Australian. Likewise, COSDU opens its doors to everyone - student or worker, Melbourne Uni student or not. The bottom line is that COSDU is truly Catholic, in faith and in deed. This leads me to my second puzzlement.
Catholic means 'universal'. We are taught to love our enemies. We try to be inclusive, not exclusive. I can understand a parent wanting his/her child to have a community that he/she can belong to, especially when far away from home. In fact, COSDU's mission statement is "A Family Away From Home, Growing Together in Christ". We strive to be that family away from home. And that means accepting everyone. Everyone, after all, deserves a family.
I detect a sense of fear you have that your daughter might get into bad company or stray from the faith by mixing with Australians. (Of course, I might have totally misunderstood what you were saying. In which case, I sincerely apologise right now.) However, I believe that bad company comes in all shapes, sizes and forms. And people stray from the faith for numerous reasons. Blaming it on the foreign environment and foreigners, in particular, is futile and fallacious. Bad company can even come in the form of another Singaporean! One can lose faith without travelling overseas.
There is nothing to fear about the average Australian. At the end of the day, it's quite difficult avoiding Australians while in Australia. I put it to you that it doesn't matter which country we come from. From a Catholic perspective, a mass is recognisable anywhere in the world. That unites every Catholic worldwide. That's one of the beauties of our faith. Similarly,from a macro viewpoint, everyone in the world is human. Our common humanity should unite, not divide.
Having said all this, I am not discouraging you from telling your daughter about COSDU. Far from it, I would really encourage her to join COSDU. The people in COSDU are diverse, coming from many nations and from all walks of life. More importantly, the people in COSDU are truly loving, giving and caring. So many people have touched my life while I was in Melbourne. I'm really thankful God led me to them.
I have to apologise if my words are harsh. I felt I had to say what was on my mind. All this is merely my point of view. I expect that you might think of all this as me being impertinent and that this email is not valid as there is no "authority" behind it. Think of me what you will, but please do not let the spirit of this email go unheeded. I know what it is like to be overseas and alone in faith, and I do not wish that experience on others. And I truly admire and respect you for being concerned about your daughter's spiritual development and well-being.
Please find out more about COSDU at this website:
http://cosdu-.port5.com/
Sr. Theresa Ryan can be contacted at +61(*) **** ****. Her e-mail address is t****@*******.***.au
Maria Lydia can be contacted at +61(*) **** ****. Her e-mail address is m**********@*****.com
Yours in Christ,
Kenneth
8)
--- end of copied text ---->
P.S.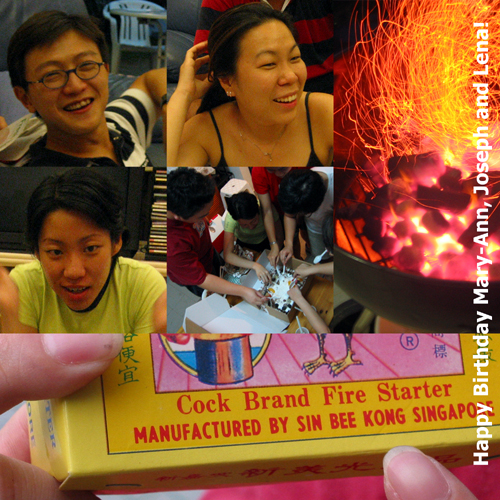 Happy Birthday Mary-Ann, Joseph and Lena!